Family Favorites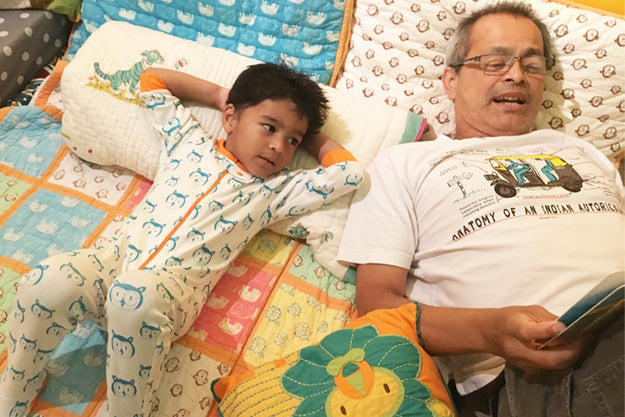 I think we started reading to our son from the first day of his life. Of course we were following Baby Center's advise on early reading and diligently incorporating a book into his bedtime routine with hope of a good night's rest. But it was also one of our favorite things to do with our baby. 

(Hanging out in plank pose with a book. Summer 2015)
I had forgotten the beauty and art in children's books. The colours, illustrations, the medium itself from acrylics to water colours, pen and ink to mix medium collages. They were thought out and planned to make visual sense and appeal to the young mind. But the simple and important messages in many of these books stayed on in my grown up self.

(With his all time favorite Brown Bear Brown Bear)
Take Penguin Problems by Jory John as an example. It was so much easier to read about being content and appreciative from a Walrus than from my husband or anyone else. Mortimer's (the protagonist penguin) problems so real and honest brought perspective to all my complaining from the lack of sleep or sheer exhaustion from the day; while the wise Walrus brought a reminder of all the good in my day and life. Deep sigh out. 

(In "costume" for Halloween 2016 )
It's been a fun journey to watch my son read to himself, coming full circle with his very first book Brown Bear Brown Bear What Do You See by Eric Carle amongst many others. Reading still continues to be one of the ways we connect, rest, play and share our day together. 

(Pretending to be Max from "Where The Wild Things Are" June 2017)
 
Here are a few family favorites:
Penguin Problem by Jory John, illustrated by Lane Smith
Ten Little Fingers & Ten Little Toes by Mem Fox & Helen Oxenbury
The Very Quiet Cricket by Eric Carle
Will You Share My Ice Cream by Mo Willems (and ALL his elephant & piggie books)
Who Needs Donuts by Mark Alan Stamaty
This Is Not My Hat by Jon Klassen
I Dissent Ruth Brader Ginsberg Makes Her Mark by Debbie Levy and 

Elizabeth Baddeley
And of course Brown Bear Brown Bear What Do You See? in English & Spanish :)

Reading in his very own  Kids Library at 4 yrs. January 2018
---